Mipro-Wbe Epoxy Coating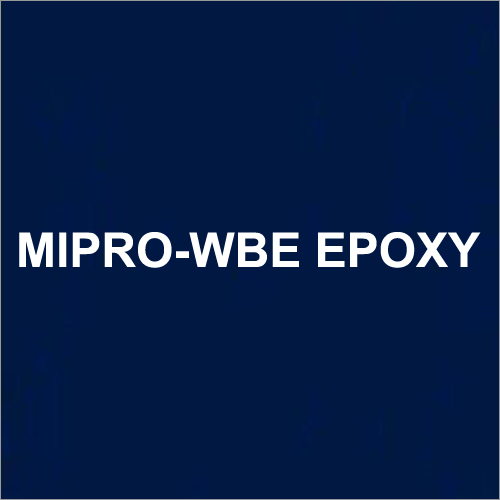 Mipro-Wbe Epoxy Coating
Price And Quantity
Kilograms/Kilograms

385.00 - 650.00 INR
Product Description
From pipeline protection to factory floor sealing, a Mipro-Wbe Epoxy Coating helps in sealing structures, strengthening materials, and protecting them from rust and degradation, making epoxy one of the most commonly used industrial finishes. The epoxy materials used for surface coatings are recognized for their strong mechanical properties including, strong adhesion, electrical insulating properties as well as chemical and heat resistance. To ensure the effectiveness of their formulation, epoxy coatings require specific environmental conditions, as well as careful surface preparation.
DESCRIPTION
MIPRO-WBC is a durable water dispersed, two pack epoxy coating. Formulated to provide a durable coating system for walls and floors subjected to light traffic. Available in a wide range of colors and in clear.
APPLICATIONS
Ideal for use as floor and wall coatings especially where solvent based materials are not suitable. For protection of surfaces against dusting, solvent and certain chemical spillage and to provide an easy maintained surface. Proven material for clean rooms, food processing plants, assembly plants, pharmaceuticals, warehouses, garages and other light industrial areas where hygiene and cleanliness are of important.
ADVANTAGES
Hygienic Provides easy to clean dust free surface. Solvent-free makes application in confined places bearable. Food grade - non solvent and nontoxic. Hard wearing good abrasion resistance for foot and light vehicular traffic.
COLOURS
Available in Standard Flooring colors and in clear. Other colors can be matched upon request.
FINISH
Stain
SURFACE REQUIREMENTS
Substrate to be coated must be sound and free from any contamination. Mechanical stone grinding should be employed followed by thorough vacuuming. Apply 2-3 coats of MIPRO-WBC at a spreading rate of 5 TO 6m2/kg/coat at an interval of minimum 8 hours. All applications must be carried out in accordance with manufacturers' written instructions.
APPLICATION PROCEDURE
Surface Preparation Substrate should be structurally sound, clean and free from loose particles, oil, grease and other contaminants. Remove cement laitance, loose particles and other contaminants from surface by mechanical cleaning preferably stone grinding and followed by vacuuming. If surface is absorbent, dampen the substrate with water before application. MIPRO WBC is a thin coating and the substrate must be fine textured after surface preparation. Any surface irregularities may show through causing excessive wear on high sports and changing the perceived color of the coating.
MIXING
Stir each component separately using a slow speed (300-400 rpm) electric drill fitted with a paint mixer or a wing type mixing paddle. Then pour the entire content of Part B into Part A and continue to mix for 2-3 minutes before use.
Application
MIPRO WBC within its pot life.
NOTE: Application of the mixed MIPRO-WBC must be completed within 30 minutes after mixing. This is to minimize variation in gloss level of the cured coating. Any unused material after this time must be discarded.
1 st Coat / Primer
Can be thinned up to 10% clean water to help better penetration and workability.
Subsequent Coats
Either 1 or 2 coats of full strength or thinned up to 5% clean water dependent on the absorbency of the substrate or the opacity of the colors.
Thinning
Use clean potable water.
Method of Application
Brush, roller (short hair mohair roller) or airless or conventional spray.
Recoating Touch Dry: 6hrs at 250C
Maximum Recoating Time: 4 hrs at 250C
Curing
MIPRO WBC is self curing. The curing time depends on the ambient temperature, humidity, and the quantity mixed and placed. Under normal circumstances initial curing will take place after 8 hours.
HEALTH & SAFETY
Although MIPRO WBC is non combustible, certain ingredients may be harmful if exposure is prolonged or in contacted with. Always use with suitable protective gears. Close container tightly after use. Keep out of reach of children.
ADDITIONAL INFORMATION
With a wealth of technical and practical experience built up over many years in pursuit of excellent especially in the flooring and concrete technology, make us your partner today Contact us
Technical Specifications
| | |
| --- | --- |
| Temperature resistance | 80 deg C (Dry) |
| Abrasion Resistance Taber (CS-17Wheel) | 0.25gm/1000gm.loading/1000 rpm |
| Bond Strength | Excellent |
| Solid Content (mixed) | 75% + or -2 |
| No. of coats Recommended | 2-3 |
| No. of component | 2 |
| Mixing Ratio | 4:1 OR 5:1 by weight of Part A & Part B |
| Pot life | 45 mins. At 25 deg C |
| Cleaner | Water |
| Packaging | 5kg |
| Estimated Coverage | 5 to 6m2 /kg/coat |
Trade Information
100-1000000 Per Day

1-7 Days
Contact Us
Plot No. 2114, Phase-III, G.I.D.C., Vatva, Ahmedabad, Gujarat, 382445, India
Phone :+918037261488