Mipro-Ve Acid-Alkali Resistant Vinyl Ester Resin Base Mortar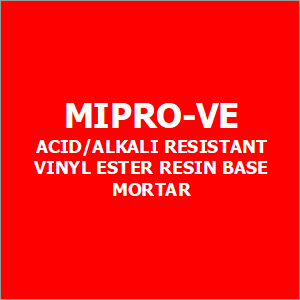 Mipro-Ve Acid-Alkali Resistant Vinyl Ester Resin Base Mortar
Price And Quantity
Kilograms/Kilograms

15.00 INR
Product Description
MIPRO-VE (Vinyl Ester Mortar) is used in the construction of floors, sumps, trenches, tanks, vessels and bleach towers in chemical processing, food and beverage plants, dairies, laboratories, textile, steel and pulp & paper mills. MIPRO-VE has excellent resistance to oxidizing bleach solutions, mineral and organic acids, alkaline solutions and some organic solvents. When used with chemical resistant masonry units and the proper membrane MIPRO-VE will protect concrete and steel sub base from chemical attacks and physical abuse. MIPRO-VE is silica filled vinyl ester mortar supplied in two parts powder & liquid which must be mixed together in the proper proportions (1:5.5 PBW) prior to use.
CHARACTERISTICS
Resistant to strong oxidizing agents, acids, alkalis and bleaches and solvents. Low absorption and shrinkage. High bond, tensile and compressive strengths.
Rapidly develops physical properties initial set time is one hour at room temperature.
SURFACE PREPARATION
All surfaces in contact with MIPRO-VE should be clean, and free of dust, dirt, grease, oil, and other contaminants. Surface prep should be in accordance with membrane requirements.
APPLICATION:
Mixing Empty correct proportion of liquid into a clean mixing vessel. Gradually add measured amount of powder while mixing continuously with a trowel, By hand or mechanical mixer until mortar is uniformly blended to a workable consistency. After mixing, spread mortar in a thin layer in a mortar pan to ensure maximum working time of 25 minutes at 35 * C. Recommended mix ratio by weight, is Part A (Resin) 1 PBW to Part B (Filler) 5.5 PBW Material, which has begun to set, cannot be retempered and must be discarded. Never add liquid or other materials to mixed material or any component part.
INSTALATION
Trowel an average 1/8 thick bed joint of MIPROVE directly on top of membrane or preceding course of brickwork. Apply the mortar by buttering on side and one head join of each masonry unit. Set the masonry units in place and position by tapping to form an average 1/8 wide vertical joint
FINISHING
Strike extruded mortar off the face of the masonry unit with a trowel. For floors where appearance is a factor, waxed face units are recommended. When waxed units are used, wait until MIPRO-VE mortar has achieved full cure (24 hours at 35* C) and clean face of masonry units using 60-psi (minimum) steam pressure at the nozzle.
CLEAN-UP
All equipment should be cleaned with acetone or MEK before MOPRO-VE cures. If removal is required after cure, consult CHEMIPROTECT ENGINEERS for recommendations.
SETTING/CURING
MIPRO-VE is self-hardening due to a chemical reaction, which occurs when the powder and liquid are mixed together. An initial set occurs in one (1) hour at 35* C - the material is ready for service after twenty-four hours at 35o C.
SELF-LIFE
MIPRO-VE powder has self-life of 3 months and liquid has self-life of one (1) months, when stored in unopened, tightly sealed container/bags in cool, dry place at 35o C
Physical Properties
| | |
| --- | --- |
| Water Absorption | 0.2 |
| Working Time @ 35o C | 15 Minutes |
| Bond Strength kg/cm2 | 10 |
| Compressive Strength kg/cm2 | 500 |
| Tensile Strength | 154 |
| Flexural Strength | 315 |
| Max. Service Temp. o C | 130 |
| Color | Off White |
Physical properties were determined on specimens prepared under laboratory conditions using applicable procedures. Actual field conditions may very and yield different results; therefore, data are subject to reasonable deviation. Data should not be used for specification purpose.
Trade Information
100-1000000 Per Day

1-7 Days
Contact Us
Plot No. 2114, Phase-III, G.I.D.C., Vatva, Ahmedabad, Gujarat, 382445, India
Phone :+918037261488